So, Sunday, I decided I was going to finish the little BSJ and then cast on a Clapotis. I made *knitting plans*, people. And then, like a good little knitter, I proceeded to execute them. Everything was chugging along nicely until I got up to get the buttons for my little sweater and discovered that I didn't have any that were suitable.
I kinda had a wee knitting meltdown at that point!
Call me crazy, but it took me 20 minutes and a phone call to convince myself that it was OKAY to go ahead and wind the yarn and start the Clapotis even though the BSJ wasn't finished if I had taken it as far as I could with what I had here at home. Because I was absolutely NOT getting dressed and driving 20 minutes one way and then agonizing over buttons and then driving back home and sewing them on on Sunday. Not. Sometimes, I think I get a little too rigid with my plans. Just sayin'
My best friend once looked at me and said, "Cass, you are a little anal." Well, Joan, it hasn't gotten any better, apparently. But at least now I can laugh about it. Later.
Anyway, here is the BSJ, finished except for buttons: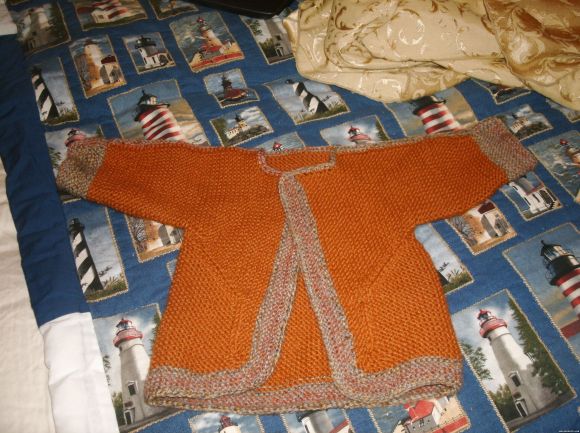 And here is the caston Clapotis, in shades of pink: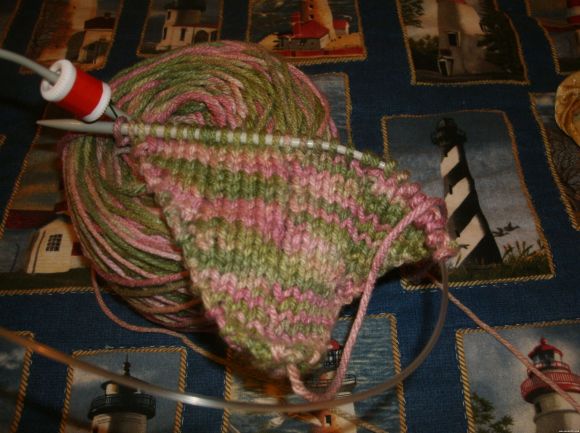 Now then, now that the knitting is out of the way, let's talk about a shiny thing. That One and I always say that when we abruptly change subjects in the middle of something we really ought to be finishing a discussion on. It's apt, because we are both easily distracted, each having a great love for the sound of our own voice. Specifically, I want to talk about how one gets ready to buy gold bullion. If you've done it, were you more interested in the beauty or the investment value? Did you buy coins or ingots? And did you sell it later or do you still have it? If you sold it, were you pleased with the earnings growth, or do you wish you had held it a little longer? If you haven't sold, why not–is it because of the market, or are you holding out because you have certain plans for that money and the time is not yet right? I mean, I know it's gorgeous, and it's sparkly and useful for decorating one's self with, but what else do I need to know? What's your personal 411 regarding it?
Comments »
Trackback responses to this post