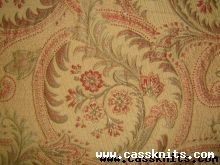 Hot on the heels of that post about National Sewing Month (Isn't it time I made a category just for sewing?), I'm looking at fabric. Yes, in spite of the fact that I have a bottom-of-the-cabinet-full. Because, the fabric, it is like the yarn, and too much is never enough, and so! we! must! look! We must look at the discount Scalamandre fabric. In fact, we must absolutely drool over it. Isn't that magnificent?? It's very spendy, but if you used just a bit, in combination with that burgundy, it could be stunning. Think pillow, with a burgundy slip cover, see.
Or what about this one? It's a Brunschwig & Fils "Grande Arbre" Linen Print. (Go ahead and click it.) I need new cushions for my glider-rocker, and I already have the pattern, since I have made them before. Decisions, decisions, I guess.
So why do I need you to stop me?? They sell samples. Sigh. Totally unfair.
4 Comments »